Relief Efforts
THANK YOU!
A Total of over 3200 Care Packages distributed since November
Debbie and her faithful team of missionaries have delivered over 3200 care packages of food to the 800 students and teaching staff in the last three months. She was accompanied by missionaries Sandy Poe, Chris and Doug Wilson, and Leomar Sirit. They also gift wrapped and delivered over 400 presents to students in the Haitian school programs as part of the Three Kings Day Christmas celebration. Families were given rice, beans, oil, sardines, etc.
This would not have been possible without generous donations from our friends in the States. The need for food during COVID continues. If you would like to help please call Debbie at our home phone 863-248-1119. Or email: lavegaschool@gmail.com.
Various Project Needs Met in the Past Year
It was amazing to see how the Lord provided for the Cutupu project (below). This is probably one of the most ambitious school projects to date (besides La Vega Christian School). This was built for the neediest school among the fourteen schools we are helping. 130 Haitian children were meeting in a dilapidated wood and tin structure, no more than 20 by 60 foot long. Seven classrooms were crowded into this building with their separate blackboards. Actually, if the weather permitted it, two classes would meet outdoors. There was no bathroom for the children or the staff. Permission to use the bathroom was asked of the neighbors in the tenement building next door.
The purchase of the property itself was a challenge costing $32,000.00 dollars. It is over an acre of land and was purchased planted with rows of banana and plantain stalks. As soon as a section was cleared for the building, we poured the footer and the columns for the foundation. Two teams came and helped with this, one from Colorado, and the other from Florida. As funds were provided we began to raise the walls for the sanctuary and the classrooms. By the end of January 2020 rumors of the virus began to filter in. Again finances came in and the walls, the roof and the floor were finished. Then in March everything was stopped by the government as a complete nation-wide shut down was put in place. No work could be done. Only pharmacies and grocery stores could be open. Finally, months later businesses were allowed to function again. From February 2020 until now no teams have been able to come and help and yet God used churches and individuals with a burden for this project to provide the finances to finish. $50,000 dollars later, it is ready to go. Nice clean bathrooms in place, and a nice kitchen setup only lacking for stoves and a refrigerator. Praise the Lord!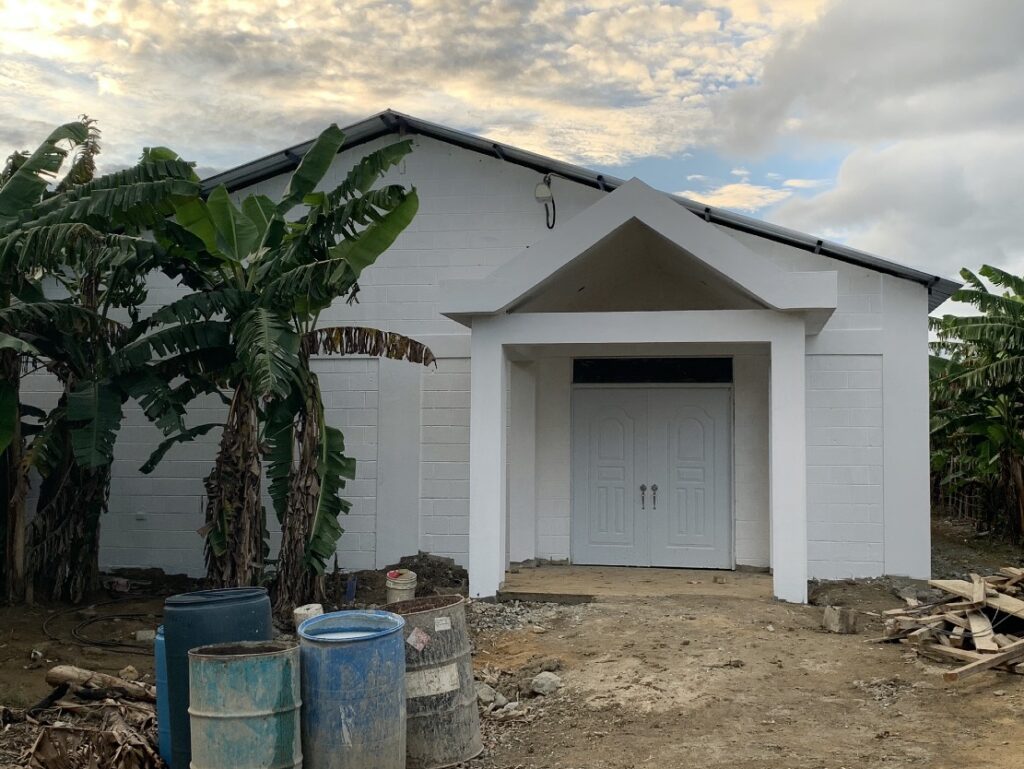 In Villa Altagracia teams came in late 2019 and early 2020 to help work on the second story area which would serve for the offices of the different ministries and staff. Recently I was able to visit and see the finished product. Our US teams worked extremely hard carrying materials to the 2d floor and digging footers under very difficult conditions. It was exciting to see this area come to fruition. You can see by the photos how nice everything was finished. In spite of the current living situation God is still on the throne and His kingdom advances!

Church offices and stairwell (above) completed in Villa Altagracia Project
On the Home Front:
We are doing fine, PTL! Our kids are fine and our 11 grandchildren are fine. We are a little nervous as it seems the virus is getting closer to us all the time. Our daughter-in-law Karina just got over it.
Watch our brand new video on our home page.