With your help, the year 2018 was one of the busiest and most fruitful years of ministry for us in La Vega, and 2019 looks to be no different.
Below you can see the plans that have been drawn up for the new Cutupu Church/School. We are so excited about this! The facility will help educate 130 children that are currently meeting in a very poor and inadequate rented facility (seen below the plans). We are believing for the church and classrooms to be built in 2019, we will need $29,000.00 for the construction of the facility.
In El Cafe (in the mountains of Constanza), a new sanctuary is awaiting doors and windows for it's inauguration.   Funds are already coming in for these two projects. Meanwhile, the "Raising the Rieles" Project is still waiting for the resolution of the land title before construction can begin to re-locate flood zone families. Please pray with us for this! Seventy to a hundred families will be affected positively for the Kingdom of God.
The Rose of Sharon Church in Barrio Inco
For the past year we have been serving as interim pastors in this church. How wonderful it was to be able to baptize six new believers! We are still a young congregation but we have a faithful nucleus hungry for the Lord.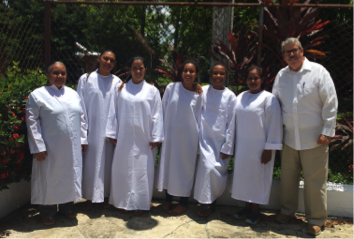 La Vega Christian School Celebrates 20 Years of Service
With 350 children the school celebrated it's 20th anniversary with a special service recognizing so many of those who have helped in the formation of this school. So many short-term mission teams from so many U.S. churches came and donated labor and finances to make this school a reality. Local pastors and church families have contributed and supported the school over the years. This year we will graduate our largest class with 35 seniors.
Reaching out to bless 14 Haitian Education Centers
Through the Haitian education centers 795 children are receiving an education that they would not receive otherwise. As donations are received the salaries for all the teachers in these centers are being paid. As funds permit, either snacks or a meals are served in each center. If you are interested in helping to support this outreach please contact Debbie at 1-863-248-1119, or her cell at 1-809-696-9928. Her email is lavegaschool@gmail.com. For $25.00 a month you can invest in the future of a needy child, and "change a life forever!  Learn more about becoming a sponsor here.